Corrosion protection
Permanent corrosion protection for TITAN injection piles is guaranteed by:
Cement grout cover
Permanent corrosion protection for TITAN injection piles is achieved with a covering of cement grout. Research findings have shown that the grout body ensures corrosion protection for permanent works, provided the cracks under loading are < 0.1mm wide (see also DIN EN 14490 "Soil nailing", appendix B 3.4.5.1). The 1983 edition of DIN 4128 also refers to limiting cracks widths:
"...DIN 1045:1978 section 17.6.2. must be applied to verify that the expected crack width is limited to `very small`" (section 9.2). It was this that led to the cement grout cover called for in the approval, which in some cases some-what larger than the minimum cover required by relevant standards:
min. 20 mm in soils ( to DIN 4128 Tab.1)
min. 10 mm in rock ( to DIN 4128 Tab.1)
min. 20 mm for compression piles (to EN 14199)
min. 30 mm for tension pile (to EN 14199)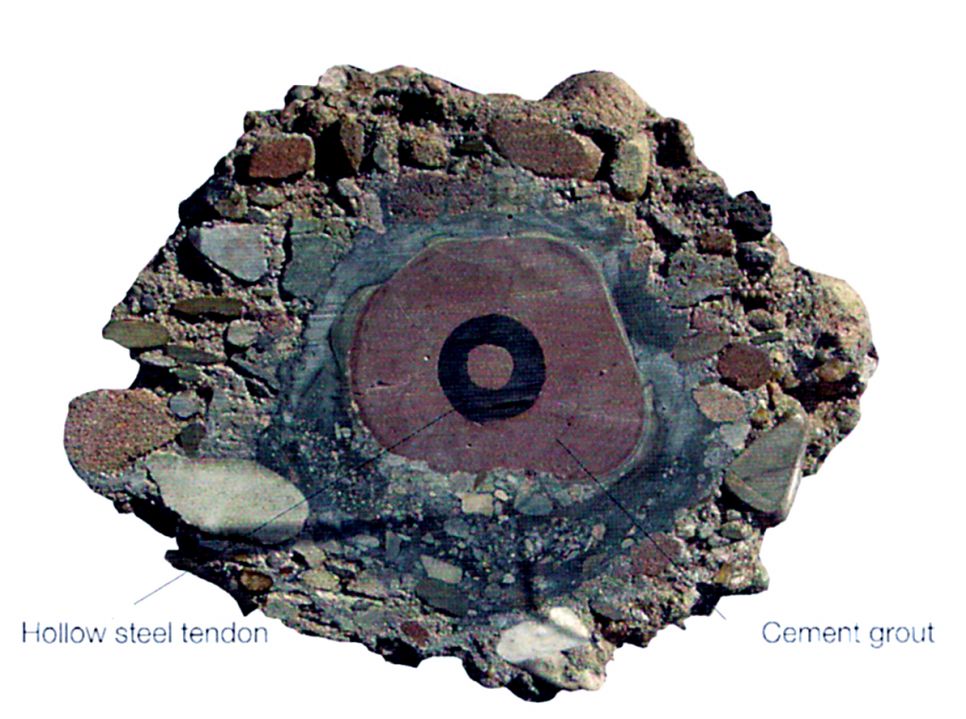 Such values can be regarded as standard corrosion protection. A thicker covering of cement grout increases the corrosion protection substantially.
Limiting the width of cracks in the grout body to< 0.1 mm was therefore also a stipulation of the DIBt for issuing the National Technical Approval for TITAN injection piles for temporary and permanent applications
without
additional measures to protect against corrosion. Proof of this has been provided by extensive bond tests with measurement of the crack widths.
The following additional measures can be taken in the case special requirements or more aggressive soils:
Hot-dip galvanising
According to DIN EN 14199 section 7.6 "Corrosion protection of steel elements" and the DIN SPEC 18539 supplements, protecting pressure- grouted injection piles against corrosion is dealt with in approval. Galvanising is a special precaution that can be provided to protect the hollow steel tendon against corrosion. The coating with zinc applied to the steel withstands severe corrosion and represents a durable, economic form of corrosion protection.
Duplex coating
Hot-dip galvanising to DIN ES ISO 1461 with an additional powder coating ( duplex) complying with DIN 55633 ( Apr 2009). This comprises a powder coating for corrosivity category C5-M Medium to DIN EN ISO 12944 part 1 plus corrosion protection according to DIN EN ISO 12944 parts 2 and 5.
Advice for installation: If hollow steel tendons with a duplex coating are used, the clamping and breaking device should be fitted with "soft" jaws so that the coating is not damaged.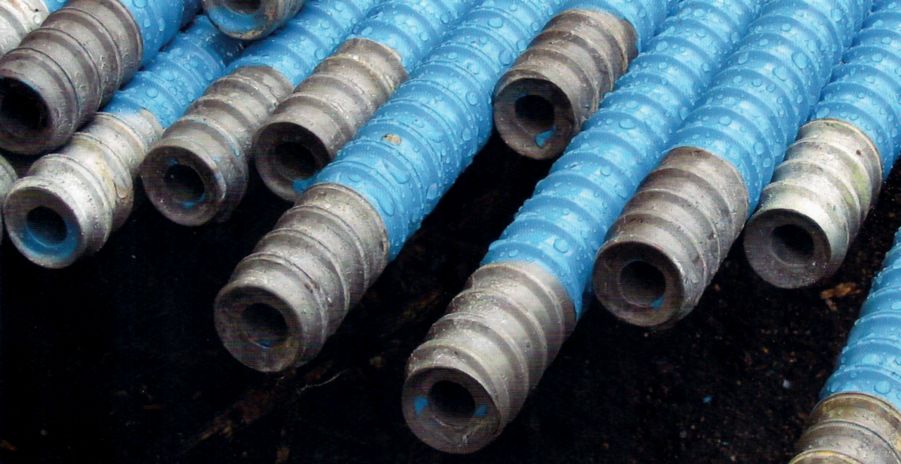 Stainless steel
TITAN 30/11-INOX and TITAN 40/16-INOX are hollow steel tendons made from stainless steel accordance with National Technical Approval Z-30.3-6. They comply with the highest class of resistance IV/severe (chlorides, sulphur dioxide, mine water). even without a covering of cement grout, this grade of steel does not corrode. It is recommended where are consistent cover of cement grout cannot be guaranteed, e.g. when refurbishing old tunnels. A detailed corrosion report prepared by the Federal Institute for Materials Research& Testing (BAM) can be sent on request (ref. No. 1.3/12279).