Connecting elements
For practical reasons, anchor rods should not be thinner than 1 1/2 inch. It has proved worthwhile to form the threaded section by upsetting in order to prevent weakening this zone. The permissible stresses in the core of threaded zone and thinner anchor shaft are therefore exploited to the full.
It is not necessary to form the threaded section by upsetting when using a rolled thread because rolling gives the anchor an outer thread diameter that is greater than the shaft diameter. Compared with the upset, machined thread, there are a number of advantages, e.g. higher strength and better accuracy of the profile, no interruptions to the fibers of the steel (dynamic loading capacity), see also EAU 2004.
And as longer threaded lengths are also possible, it is often unnecessary to include an additional turnbuckle. Loading tests on the Whitworth imperial thread still common these days have proved that this type of thread is the best one for rough building site conditions; however, metric threads are also used.
Fully killed steel grades to DIN EN 10025 should be used because these are not susceptible to ageing, brittle failure or stress corrosion cracking. Steel grades S 235 JR and S 355 J2+N should be preferred. The higher grade, S 355 J2+N, is normally specified for economic and safety reasons.
Besides the usual round steel tie rods with treads at both ends, anchors with upset eyes or T-heads can be selected for certain types of connection.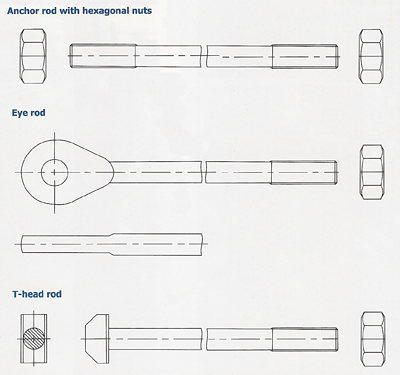 Round steel tie rods can be provided with turnbuckles when there it is not possible to fabricate them in one piece. Round steel tie rods are generally supplied in two pieces. The recommendation is to install turnbuckles just behind the main wall. The anchor wall can therefore be supported at an early date by backfilling the soil. In addition, good connection are then available for later conversion measures.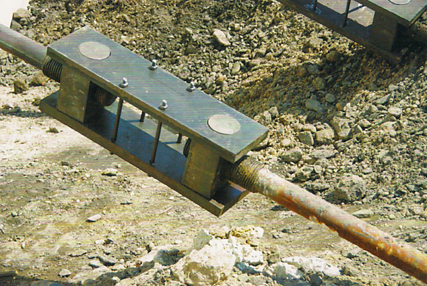 Turnbuckle have right- and left- hand threads for tensioning and adjusting the total length of the anchor.
To ease transport and installation, the length of the rearward anchor rod should not exceed 20m. If longer anchors are required, a socket is included for connecting a further rod. Sockets have a continuous right- hand thread and therefore cannot be used for tensioning.
Hinge turnbuckles are available for creating a joint that can serve to tension the road as well as form an articulated connection.
Shackle joints can be used for special connections and when settlement is expected. In terms of articulation and installation, a design with upset eye rods, shackle joints ind hinge pins is superior to the T-head design.
Universal joints should be provided where movement in both the vertical and the horizontal direction is required.